For the 11th time this year, the All-over-IP Conference returns under the banner Educating the Most Profitable Sales Channels. The All-over-IP Conference runs alongside the All-over-IP Exhibition and takes place on November 21–23, 2018 at Sokolniki Expo in Moscow.
All-over-IP 2018 Conference Programme >>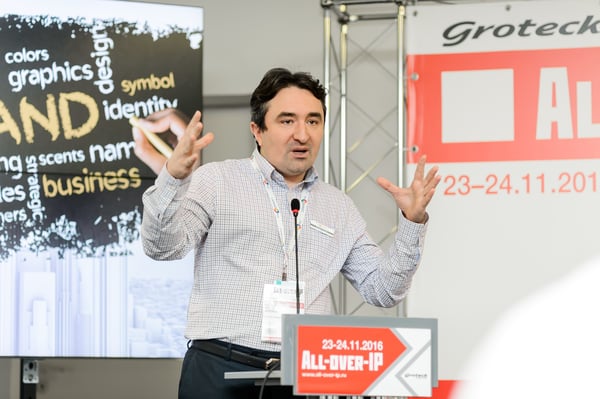 Thanks to top quality content delivered by the show's sponsors, exhibitors and speakers, Russian top-performing sales channels for security and IT business are able to stay up-to-date with recent technlogy developments and best practices that are rewarding for their revenues. All-over-IP 2018 is sponsored by AxxonSoft, Basler AG, VIVOTEK Inc., Elektronika and Argus-Spectrum-International.
The featured topics are based on the results of the All-over-IP survey revealing the most profitable sales channels for security and IT business in Russia.
Global vendors who want to be part of the conference programme that is
designed for the most profitable sales channels,
based on the findings revealed during personal interviews with them,
and curated by some of their most active representatives to contribute to desired outcomes,
should choose the track, format (sponsorship, a keynote speech, a technology session) and apply online.

About ALL-OVER-IP 2018
Founded in 2008, All-over-IP is a networking platform for global IT, surveillance and security vendors, key local customers and sales partners where they share knowledge and exchange ideas that are financially rewarding for business. All-over-IP Expo brings together major brands to ensure the best marketplace for the latest technology and innovation, and to lead customers to the Next Big Thing. Sponsored by AxxonSoft, Basler AG, VIVOTEK, Argus-Spectrum-International, Electronika.

For exhibiting opportunities, please contact Alla Aldushina at aldushina@groteck.ru. For speaking opportunities please contact Olga Fedoseeva at fedoseeva@groteck.ru.

November 21–23, 2018
Russia, Moscow, Sokolniki Expo
www.all-over-ip.ru