All-over-IP 2019 Business Forum kicked off Nov 20 for the 12th time in Moscow featuring six parallel sessions with expert discussions, lectures, keynote speeches, sales pitches, hands-on workshops, technology advice and leadership networking. The absolute triumph of digital transformation that is fundamentally changing the way value is delivered to customers has been the major driver of the show proposal. Day One has become a platform to draw attention to ever-expanding integration of embedded vision, AI, the IoT, video surveillance, smartphone-based access, biometric identification, industrial Ethernet, PSIM concepts, and cloud services into all areas of a business.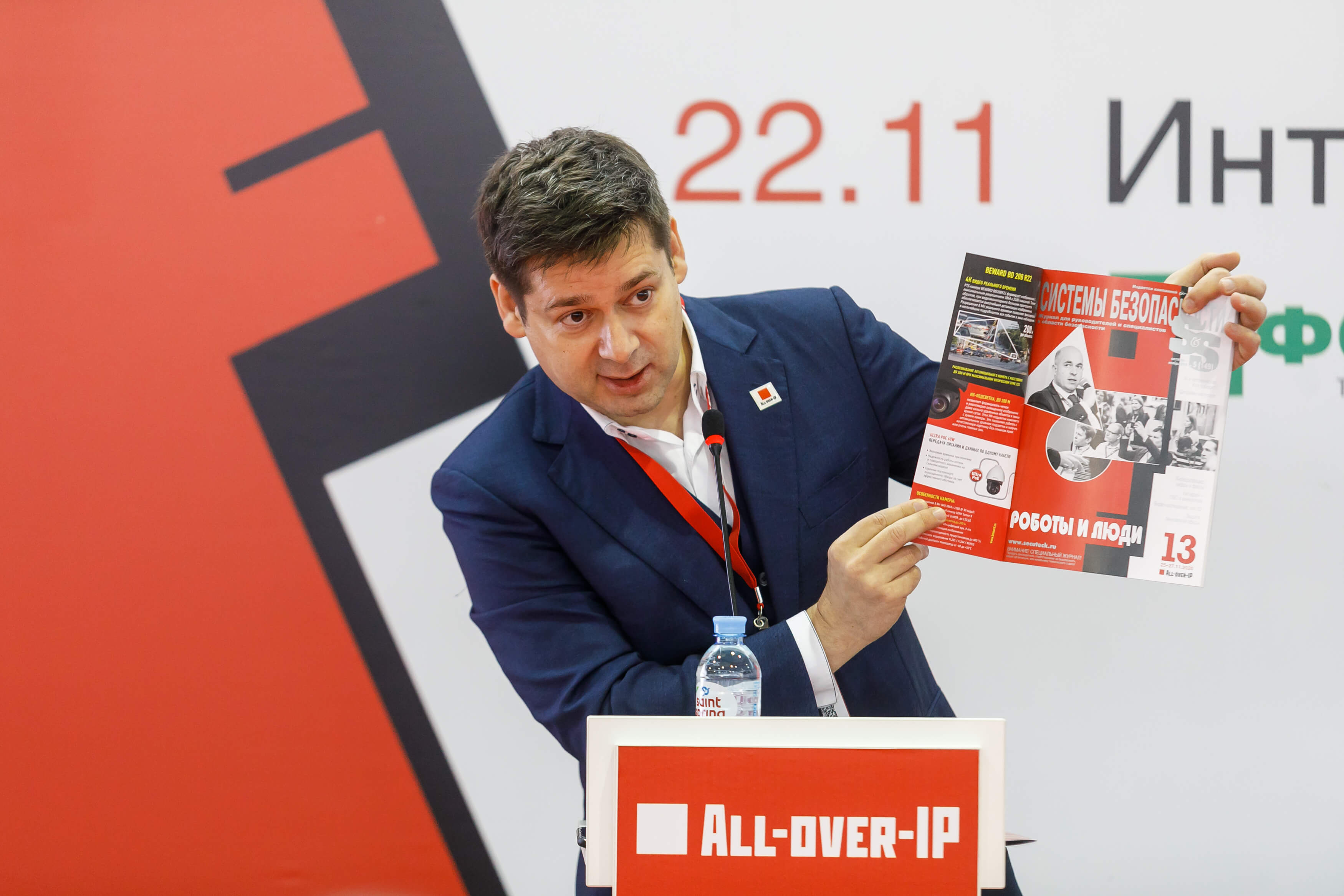 Transformed into a hybrid event, All-over-IP – Season 12 was supported by 12 sponsors and partners including GRUNDIG Security, AxxonSoft, Basler AG, Electronika, Rubicon, Faceter, Milestone Systems, Fort-Telecom, rubetek, OSRAM, HeadPoint and Dahua Technology.
12 years ago, when the idea for All-over-IP came up, the global exhibition industry seemed to be growing weary. It was obvious that traditional trade shows were in need of change if they wanted to stay relevant. The Internet revolutionized the way people accessed information. Together with technology leaders we launched a media platform that enabled more efficient communication between hi-tech brands, sales partners and end-users. Andrey Miroshkin, CEO, Groteck Business Media
A list of emerging technologies that help to enter new markets were discussed during the opening ceremony of All-over-IP 2019 by CEO at Groteck Business Media – Andrey Miroshkin; CEO Russia and CIS at GRUNDIG Security – Alexander Denezhko; Deputy Director of Distribution at Dahua Technology Rus – Sergey Dubinin; Corporate Sales Manager at AxxonSoft – Sergey Kulbaka; Group Leader Sales D, A, South & East Europe, Middle East at Basler AG – Lars Brinkmann; Founder and Chairman of the Board at Electronika – Nikolay Ovchenkov; Executive Director at Faceter Russia – Eduard Kostyrev; Product Manager TFortis at Fort-Telecom – Artem Oparin; Director Business Development at rubetek – Timofey Kolotovkin; and Head of ENT & IND Sales Division at OSRAM DI Russia – Maxim Medvedev.
Leading voices from the technology industry shared the stages on day one including: Victor Egorov (Basler AG), Maxim Soroka (Vitec), Igor Dvoretsky (XIMEA), Nikita Zhivago (NVIDIA), Alexander Vlasov (Avnet Silica), Gerrit-Willem Prins (OSRAM LED Engin), Vladimir Chernitsky (Faceter), Mikhail Shakarov and Mikhail Leontyev (Hanwha Techwin), Ludwig Bergschneider (GRUNDIG Security), Oleg Mansurov and Sergey Petukhov (Bolid), Alexander Kozlov (TEPLOVODOKHRAN), Sergey Chernov (Argus-Spectrum), Maxime Rocca (Xilinx), Anton Kamaev and Dmitry Shulgin (iRidium mobile), Sergey Kovin (Ujin), Dmitrijs Bazajevs (Milestone Systems), Slava Bezman (Verint Systems), Sergey Pasynkov (Obninsk-Telecom), Alexander Baranov (NODER), Nikita Belokrylov (Astra Lab), Mikhail Korchagin (Integrated Technology), Yaroslav Kuzmitsky (Akuxov), Igor Falomkin (AxxonSoft), Oleg Grishanin (Goal), Daria Dmitricheva (WEKEY), Denis Ivanov (Itrium SPb), Peter Skobelev (Smart solution), Vasily Sukhomlinov (DSSL), Gennady Suvorov (SMART4), Maxim Osokin (Rubicon), Konstantin Kryzhanovsky (True IP), Alexander Detkov (Rosdomofon) and other experts.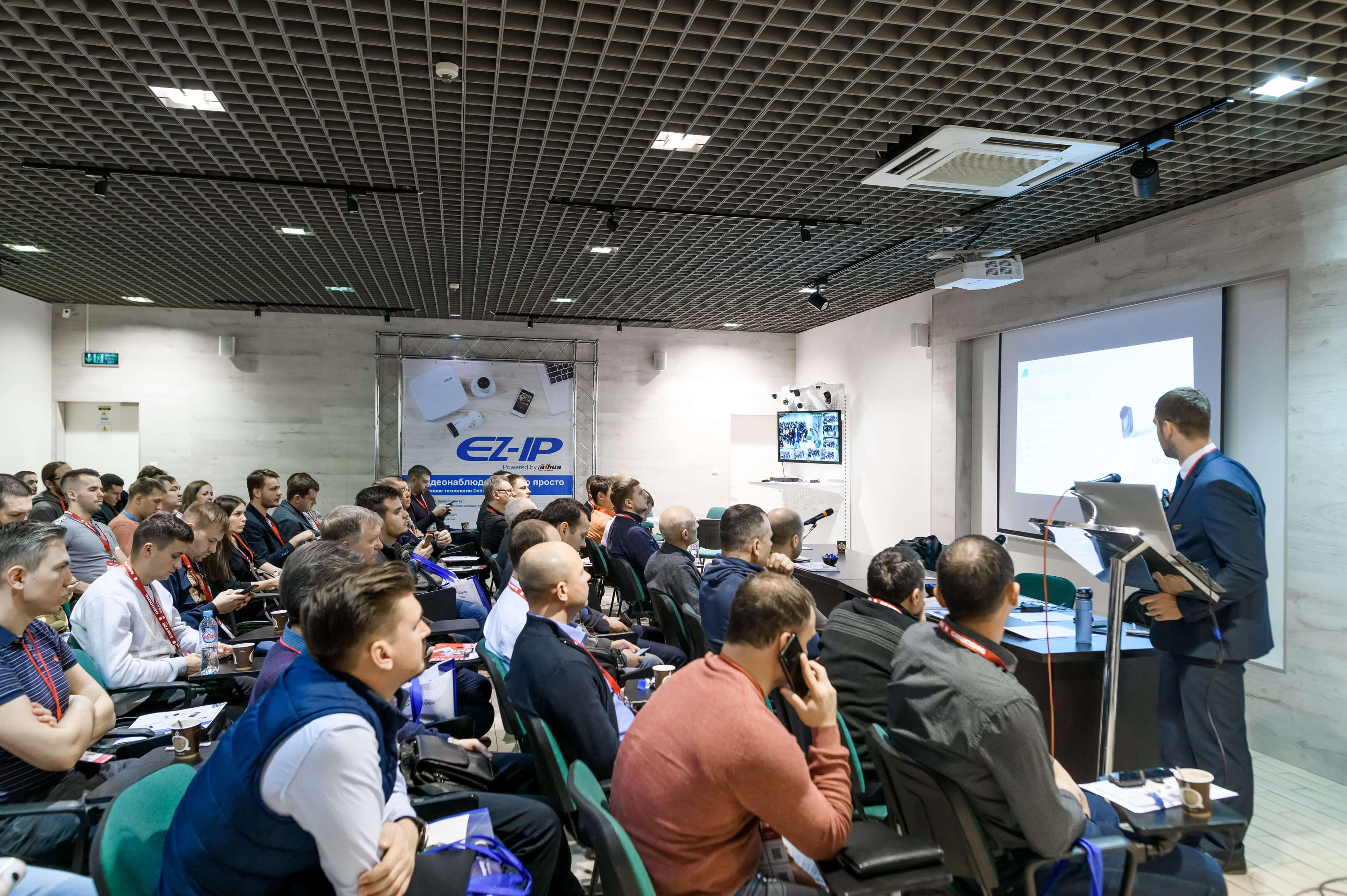 The vertical context in terms of customer needs, challenges, requirements and best practices was brought in by Mosenergosbyt (electric utility), Fond Yug (development of territories, property management), Rosbank (a universal bank, part of Societe Generale Group), Mosoblexpertiza (expert examination of project documentation), Imperial Duty Free (retail, Sheremetyevo Duty Free Heinemann), Modis (multi-brand fashion clothing stores), X5 Retail Group (a leading food retailer) and Metalloinvest (a global steel and mining holding).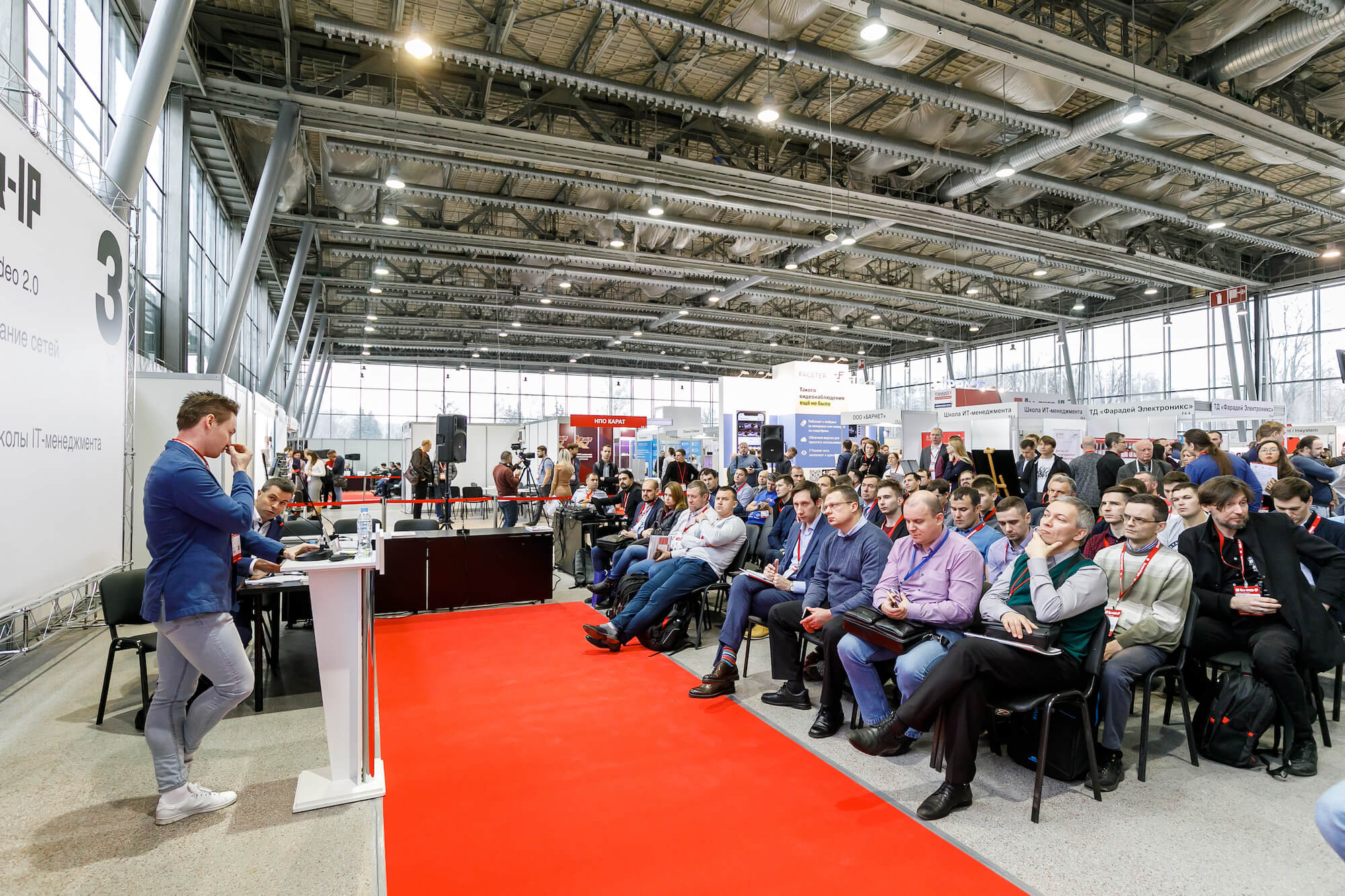 Dahua Technology joined with a new type of onsite activities – DAHUA EZ Conference – to introduce their new entry-level IP and CVI products on the Russian market. The famous video surveillance manufacturer came in with a surprising offering. Technology wise, they combined the incompatible: outstanding performance, simplicity, international brand and attractive pricing. As related to All-over-IP, it was an extraordinary experience of the new product line (EZ-IP and EZ-CVI) served as an exciting mixture of education, technology demonstration, professional consulting and speed installation events.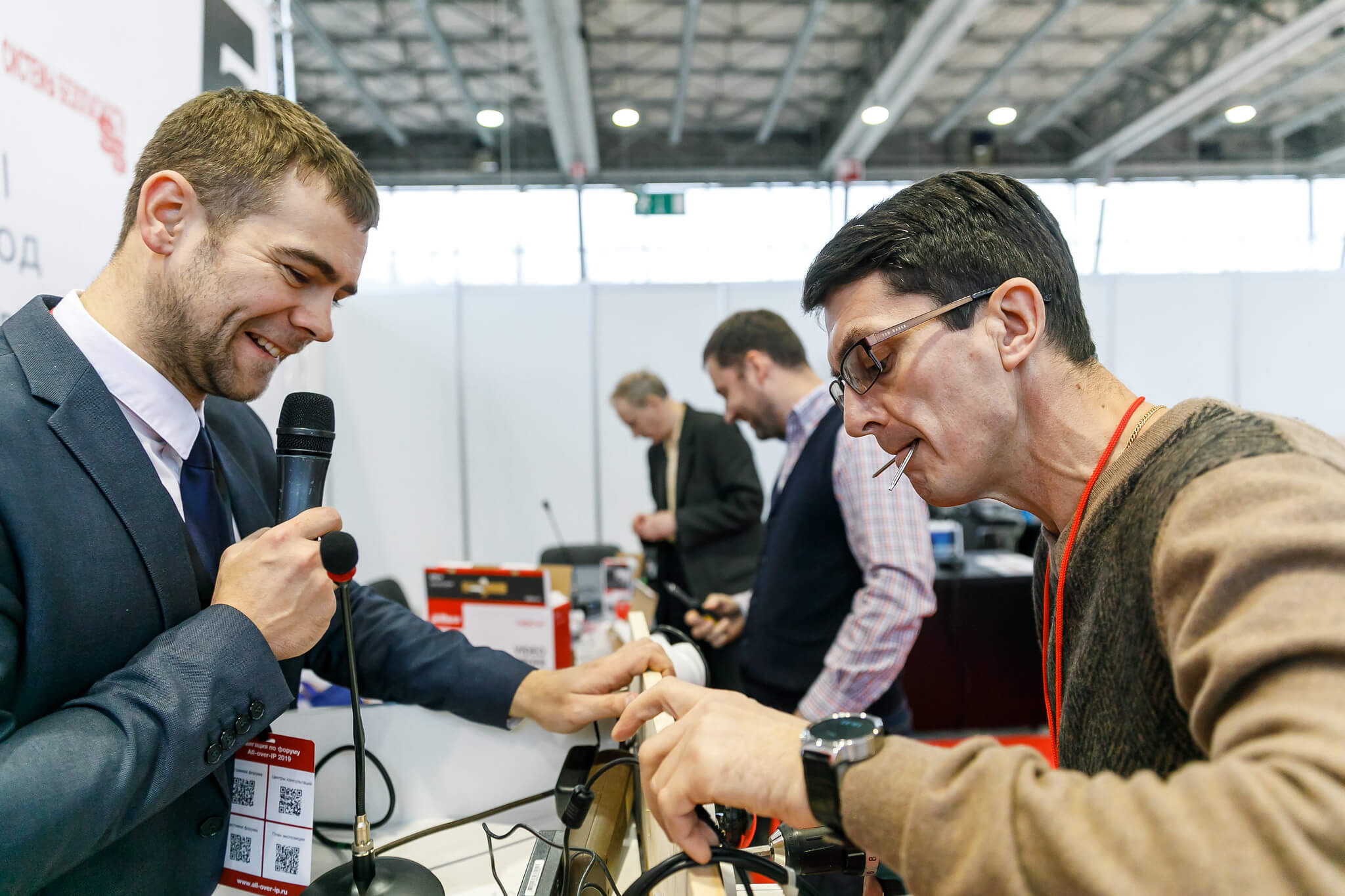 In 2019, the exhibition part was for the first time in the All-over-IP history arranged as consulting centres of excellence providing professional assistance on specific topics and challenges for specific groups of audience. Preparing their attendance, visitors could filter out exhibitors in accordance with their consulting topics on offer instead of just observing a list of brands. So each brand, whether it a big name or a niche player, was matched with its audience. That allowed this year's exhibitors to double their sales leads as the audience received considerable guidance in technology offerings. The show floor itself transformed into a consulting hub for sales partners and end-users on how to better deploy various sets of technologies to maximize benefit while minimizing risks.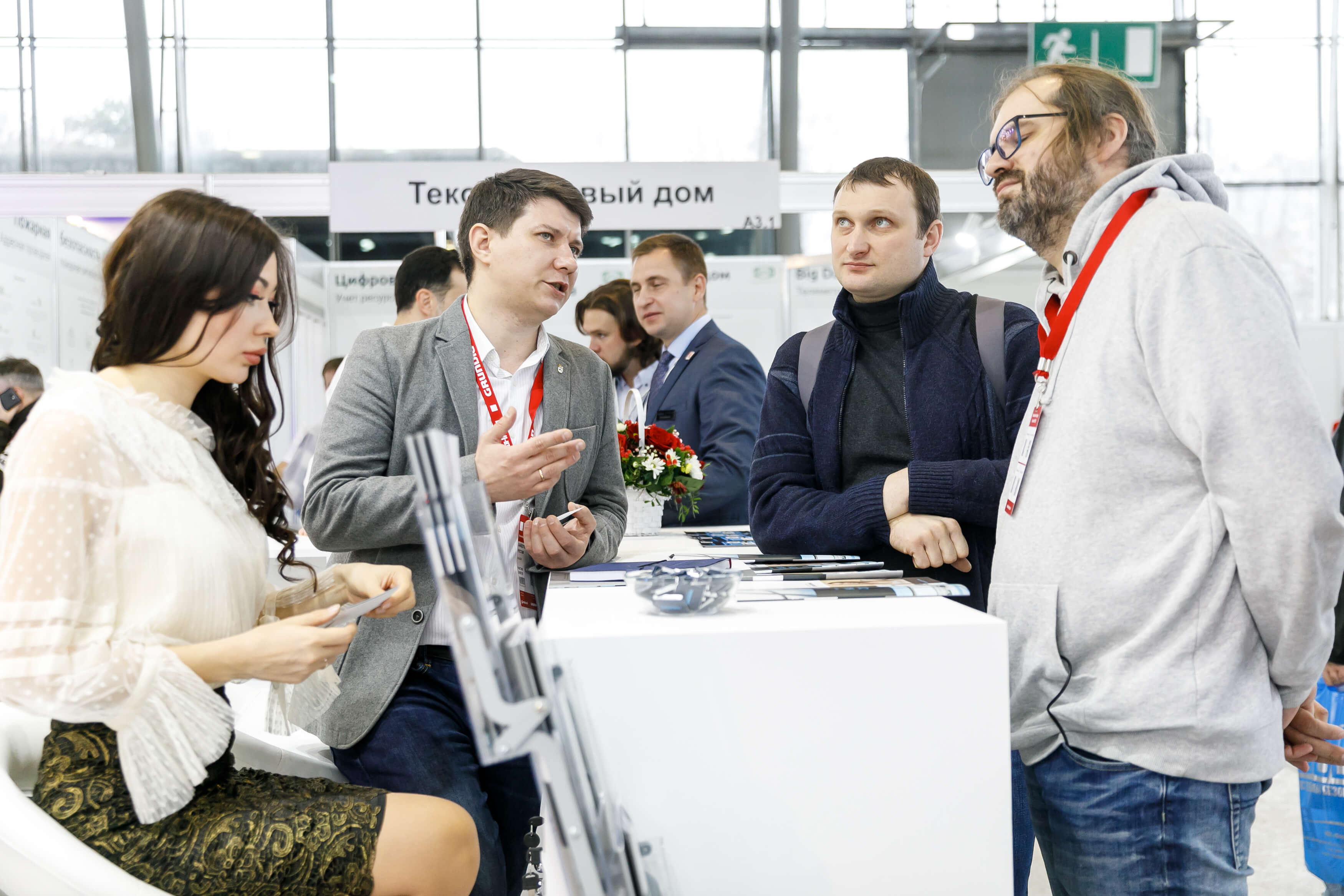 All-over-IP Business Forum
Connects the hi-tech industry and accelerates revenue streams from physical security, the Internet of Things, embedded vision, biometrics, artificial intelligence, digital cities and factories since 2008.
General Sponsor: GRUNDIG Security
Sponsors and Partners: AxxonSoft, Electronika, Basler AG, Rubicon, Faceter, Milestone Systems, Fort-Telecom, rubetek, OSRAM LED Engin, HeadPoint, Dahua Technology
Nov 25–27, 2020 Moscow
www.all-over-ip.ru