Supported by the Russian Biometric Society, All-over-IP 2018 is running The Biometric Congress on November 23, 2018 in Moscow. Join the Biometric Congress here by filling in the form >>
The Russian Biometric Society is the largest membership non-profit organisation in Russia that builds the local biometrics community and supports business.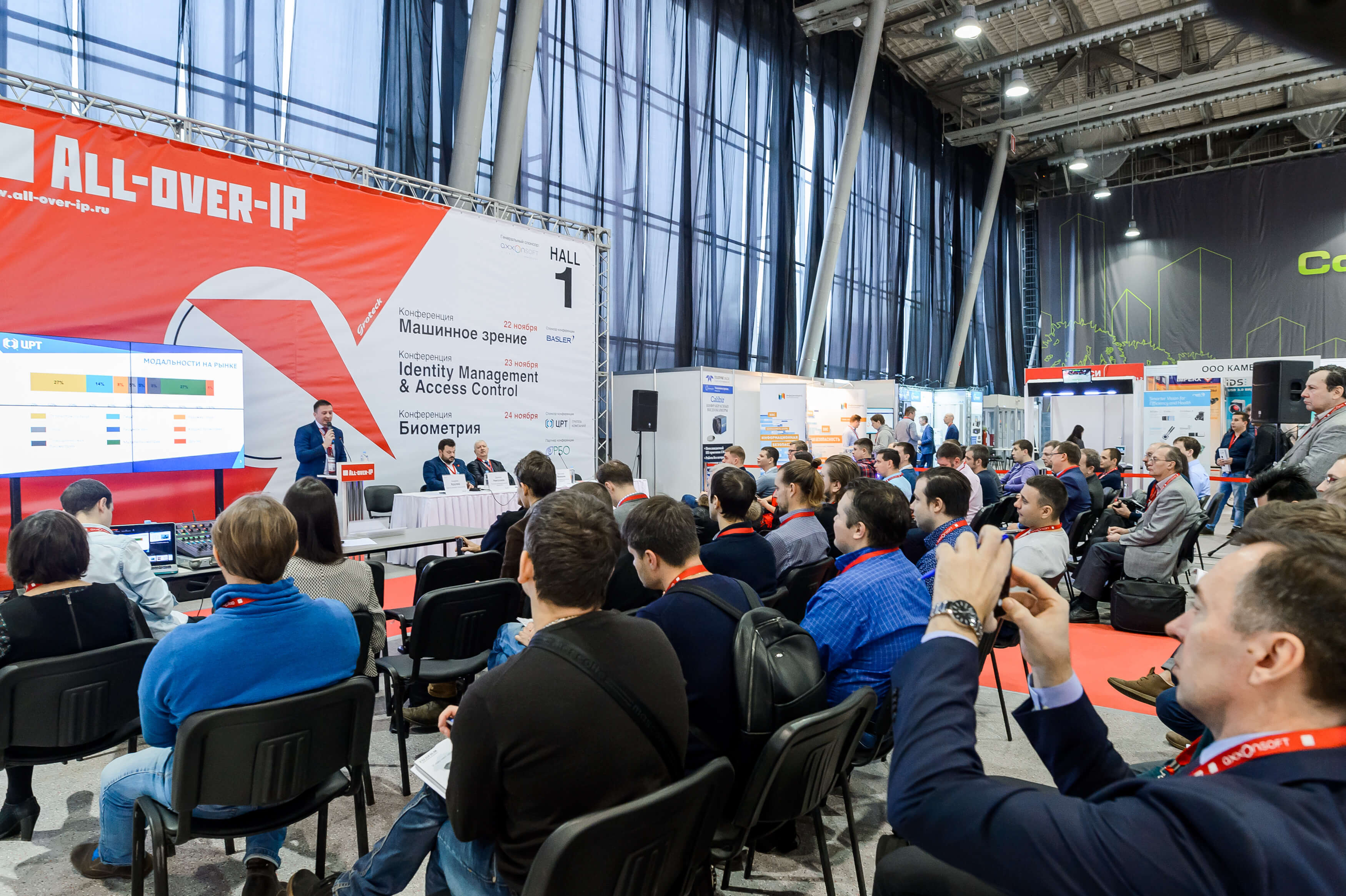 The Biometric Congress Agenda
New Methods of Biometric Identification for 2018–2019
- Biometric Gait Recognition, Behavioral Biometrics.
- Situation Recognition, Video-Enabled Biometrics.
- New Approaches for Liveness Detection.
Rinat Anisimov, Founder, Smart Security
New Products / Solutions / Installations
Multimodal Biometric Solutions. The Role of Biometrics In Digital Transformation
Andrey Khrulev, Director Business Development – Biometrics, Speech Technology Center
Keynote Speech
Recent Advances in Global Biometric Standardization
Danila Nikolaev, Director, Russian Biometric Society
Best Practices
When The Old World Meets The New World. Biometrics and Identity Documents
Alexander Lebedev, Director Software and Hardware Development, Angstrem-T
Future Vision
Artificial Intelligence I and Everyday Life. Biometrics in Safe City Applications
Alexey Kadeyshvili, CTO, Vocord
Best Practices
Bringing Together Facial Recognition and RFID. How Dual Authentication Helps Reducing Labor Costs
Aleksandr Mikhalev, CEO and Founder, Pocketkey
Other Topics to be covered:
Strategies for Efficient Biometric Recognition under Harsh or Challenging Conditions.
Biometrics as a Service (BaaS). The Next Giant Leap.
The Report on The Outcome of the Roll-out of the National Unified Biometric System.
Vendors and solution providers that drive biometric applications at All-over-IP 2018 include: AAM Systems, Speech Technology Centre, Vocord, EnterFace 3D, Akuvox, dormakaba, AxxonSoft, Synesis, Bolid, EVS, Smart Security, Angstrem-T, 2N TELEKOMUNIKACE a.s., Pocketkey.

Contact Alla Aldushina (aldushina@groteck.ru) and Olga Fedoseeva (fedoseeva@groteck.ru) for exhibiting and speaking opportunities.

About ALL-OVER-IP 2018
Founded in 2008, All-over-IP is a networking platform for global IT, surveillance and security vendors, key local customers and sales partners where they share knowledge and exchange ideas that are financially rewarding for business. All-over-IP Expo brings together major brands to ensure the best marketplace for the latest technology and innovation, and to lead customers to the Next Big Thing.

Sponsored by AxxonSoft, Basler AG, VIVOTEK, Electronika, dormakaba, Canon.

November 21–23, 2018
Russia, Moscow, Sokolniki Expo
www.all-over-ip.ru