We are now accepting speaker submissions for the Global Keynote Theatre at All-over-IP Business Forum 2018 which takes place on 21–23 November, Moscow, Russia.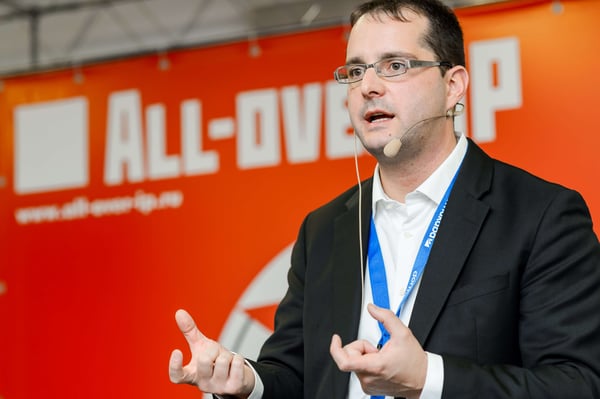 All-over-IP Business Forum brings highly-engaged end-users and resellers serving the following sectors locally: Major Events, Retail, Banking and Finance, Critical Infrastructure, Transportation, Government, Law Enforcement, Public and Private Sector.
Over three days the series of keynote addresses, conferences, panel discussions and live demonstrations provide an extensive educational programme that will deliver insight, analysis and perspective on the Next Big Thing and relevant investment strategies.
We invite you to submit a proposal for speaking on:
Advanced Video Surveillance and Analytics
Access Control and Mobility
Biometrics
Artificial Intelligence and Neural Networks
The Cloud and the IoT
Going Beyond Security
Digital Transformation
Cybersecurity
Identity and Access Management
Integrated Security
Video Surveillance Storage
Big Data and PSIM
Machine Vision, Embedded Vision
IP Networking
Intelligent Buildings, Building Automation
Smart Cities
Check out the level of keynote speakers that leverage All-over-IP to address their message to the local market. Fill in the form online to apply for a speech.
11th Annual International ALL-OVER-IP 2018
Founded in 2008, All-over-IP is a networking platform for global IT, surveillance and security vendors, key local customers and sales partners where they share knowledge and exchange ideas that are financially rewarding for business. All-over-IP Expo brings together major brands to ensure the best marketplace for the latest technology and innovation, and to lead customers to the Next Big Thing. Sponsored by AxxonSoft.
For exhibiting opportunities, please contact Alla Aldushina at aldushina@groteck.ru. For speaking opportunities please contact Olga Fedoseeva at fedoseeva@groteck.ru.
November 21–23, 2018
Russia, Moscow, Sokolniki Expo
Photo: Ralf Laufer, Segment Business Owner EMEA/DACH, Global Business Electronic Access and Data, dormakaba