We bring you an exclusive access at All-over-IP 2018 to address the best Russia's sales channels you can capitalize on.
Those include VADs, VARs and MSPs; full-cycle system integrators; architects and engineers (A&Es); solution providers and telecom operators.
The first lineup of 2018 All-over-IP keynote speakers include: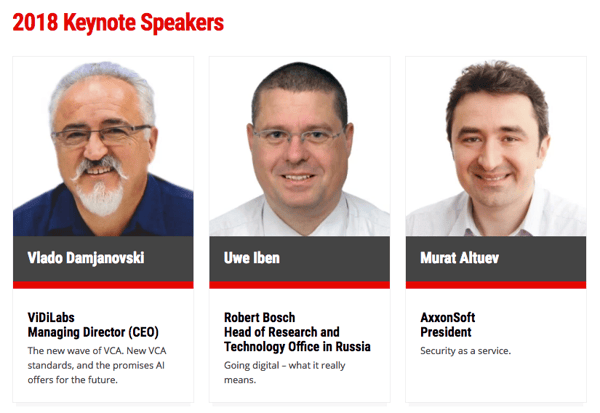 Vlado Damjanovski – Managing Director (CEO), ViDiLabs

Uwe Iben – Head of Research and Technology Office (Russia), Robert Bosch
Murat Altuev – President, AxxonSoft
Ingo Lewerendt – Head of Strategic Business Development, Basler AG
Uwe Post – Managing Director, NET GmbH
Ahmed Mostafa – CEO and Founder, Eagles Foundation
Apply online to join 2018 All-over-IP Global Keynote Speakers Theatre to share your knowledge and leadership practices to influence local sales partners and end-users, and outshine the competition.
This is a free-of-charge opportunity for global brands.
About ALL-OVER-IP 2018
Founded in 2008, All-over-IP is a networking platform for global IT, surveillance and security vendors, key local customers and sales partners where they share knowledge and exchange ideas that are financially rewarding for business. All-over-IP Expo brings together major brands to ensure the best marketplace for the latest technology and innovation, and to lead customers to the Next Big Thing.
Sponsored by AxxonSoft, Basler AG, VIVOTEK, Argus Spectrum International, Electronika.
November 21–23, 2018
Russia, Moscow, Sokolniki Expo
www.all-over-ip.ru