Join us for the largest business and technology forum on DIGITAL TRANSFORMATION and ARTIFICIAL INTELLIGENCE that change physical security, access control, video surveillance, IT infrastructure and embedded vision industries – ALL-OVER-IP 2018.
November 21–23, 2018 | Moscow, Sokolniki Expo, Pavilion 4
REGISTER ONLINE TO VISIT THE SHOW >>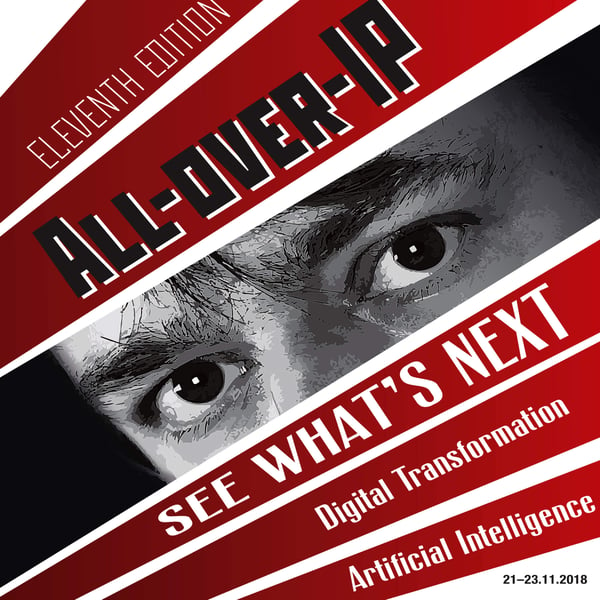 98 visionary and educational speakers
25 presentations of emerging technology

76 hours of knowledge exchange and best practice
Check the full 3-day Programme here >>
AMONG KEY EXHIBITORS AND SPEAKERS ARE 2N, Abloy, AKUVOX, AxxonSoft, BAS-IP, Basler AG, Bosch, Canon, Cisco Systems, Commend, ComNet, dormakaba, Fortinet, Gotschlich, Grundig Security, Intel, KEDACOM, Lex Computech, Microsemi, MOBOTIX, MultiCom, Nedap IS, NET GmbH, NVIDIA, Siklu, Uniview, WEY Technology, Xilinx, XIMEA.
AMONG END-USER SPEAKERS ARE
Cosmos Group, a Hotel Management Company – CIO

PIK Group – Director Low Current Systems

KROST Group – Chief Engineer

KROST Group – Director Systems Automation

- Krasnodar Airport – Director Infrastructure and Operational Technology

Nornickel - Chief Project Manager, Enterprise Security
Slavneft-YaNOS – Security Officer
Rostelecom Data Centres – Director Integrated Solutions
Xelent Data Centers – Director Cloud Sales
DataHouse.ru Data Centres – CTO
The Moscow Center of Traffic Management – Deputy Director
TSK Mosenergo – CIO
SPECIAL GUEST: Vlado Damjanovski, Managing Director (CEO), ViDiLabs.
VERTICAL PANEL DISCUSSIONS INCLUDE
Construction, Development and Real Estate Panel Discussion

Enterprise Security Panel Discussion
Embedded Vision Panel Discussion
Data-Centre Panel Discussion
Anti-Drone Discussion
Data Protection and Secure Print Panel Discussion
Telecom Industry Panel Discussion
Biometrics Congress
Security as a Service Discussion
Vertical Solutions for Architects and Engineers Discussion
See you in Moscow next week!
About ALL-OVER-IP 2018
Founded in 2008, All-over-IP is a networking platform for global IT, surveillance and security vendors, key local customers and sales partners where they share knowledge and exchange ideas that are financially rewarding for business. All-over-IP Expo brings together major brands to ensure the best marketplace for the latest technology and innovation, and to lead customers to the Next Big Thing.
Sponsored by AxxonSoft, Basler AG, VIVOTEK, Electronika, dormakaba, Canon.
November 21–23, 2018
Russia, Moscow, Sokolniki Expo
www.all-over-ip.ru