New technology makes imaging of greater quality widely accessible which allows to improve performance of vision-controlled machines and handle multiple tasks. Technology availability and affordability provide Russian system integrators (who create solutions out of machine vision components such as cameras, optics, lighting) with new business opportunities towards their current and new customers. Machine manufacturers, vision solution providers and end-users are now able to deal with tasks that were impossible a few years ago due to technology or cost limitations. ViTec CEO and Owner Maxim Soroka, a regular exhibitor and speaker at All-over-IP and a member of the show's Advisory Board, discusses the present and the future of machine vision business in Russia.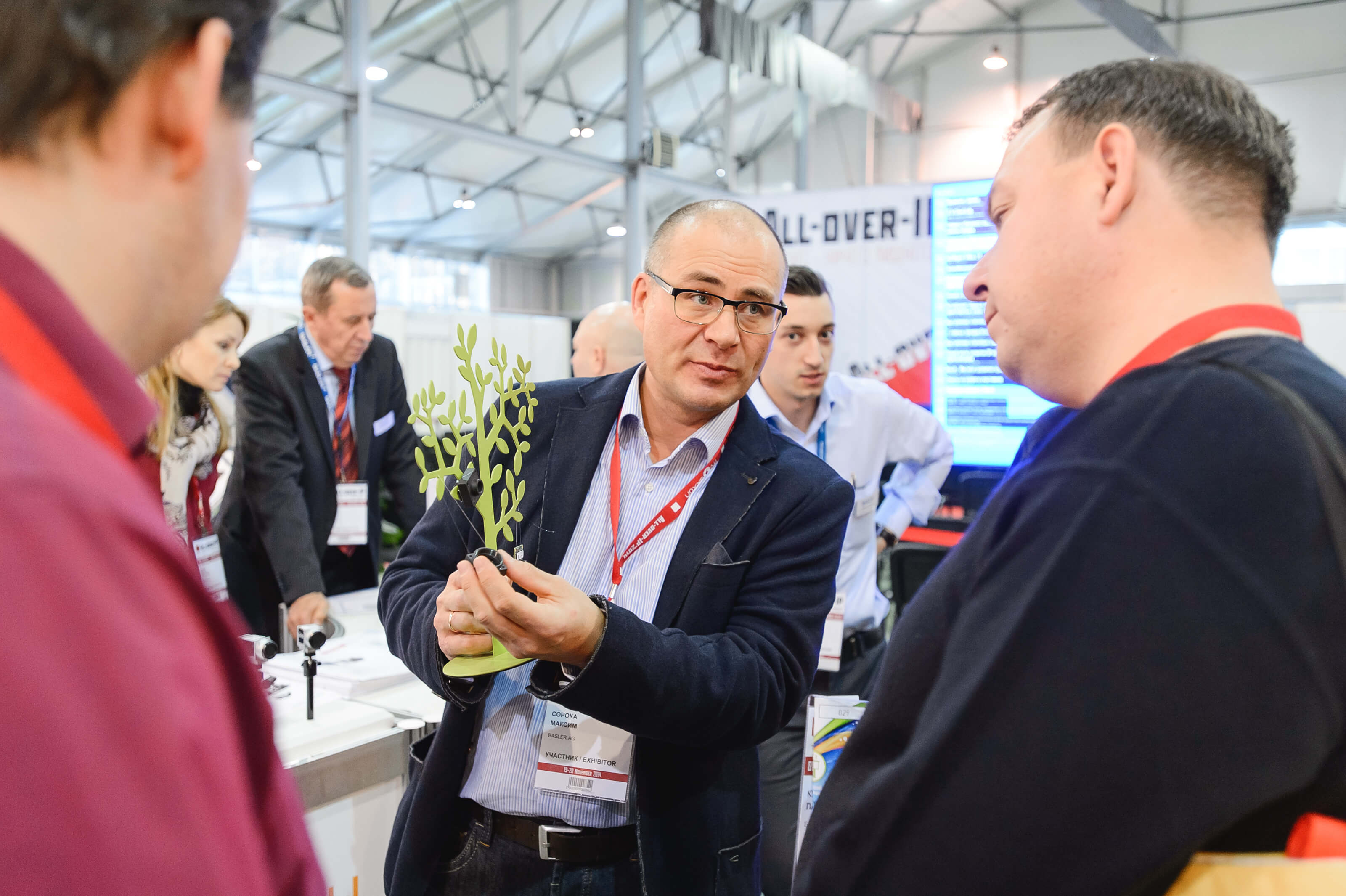 Maxim Soroka, CEO and Owner, ViTec
Runs a successful engineering business in Russia since 1995. Operates on the global and local hi-tech markets. Manages ViTec that is so far the only company from Russia that participates in European Machine Vision Association (EMVA) since 2015.
Professional interests: industrial machine vision, the use of machine vision in new areas such as transportation, retail, physical security), bringing machine vision capabilities to embedded applications, adoption of new technology (neural networks, hyperspectral imaging, etc), robotics.
What are the main growth drivers in the machine vision market in 2019?

Globally, it's a deeper integration of image processing into embedded systems for various applications – from surround view camera solutions and advanced driver-assistance systems in cars (lane keeping assist, traffic signs recognition, sleep-related vehicle accidents prevention, etc) to food production (quality control, adoption of flexible manufacturing systems) and agriculture (autonomous tractors, harvesters and other machinery, sorting and grading). Of cos, it's physical security systems and sales support (both of these applications are based on human activity monitoring). It's intelligent transport systems (ITS) including traffic and congestion monitoring and management systems. Generally, there is an obvious trend of transformation of machine vision technology into an intelligent functional element of complex machines, devices and solutions. Another story is augmented reality. It implies integration between machine vision and the real environment, including humans. But humans are difficult to integrate so it's not clear when AR makes a hit (this or next year), still it will definitely have a significant impact on most areas of human activity as it changes the way we get visual information. Machine or computer vision becomes the key technology here.
In Russia (compared to the rest of the world where machine vision technology is used in all kinds of industrial applications), the manufacturing sector remains relatively weak (apart from agriculture and defence industry), so traffic applications including speed control, access control based on automatic license plate recognition, automatic toll management; physical security applications including city surveillance and critical infrastructure security where "some camera with face recognition" is not enough; QR/barcode control in pharmacy, alcohol production and other environments will dominate machine vision customers' thinking.
Shall we differentiate machine vision trends from embedded vision trends?

I would not sort embedded vision out from machine vision. Embedded systems are opening major opportunities for machine vision vendors and solution providers these days. Nobody differentiates between CPUs used in mobile phones and CPUs that provide architecture for computers or other devices, technology is the same. It's similar with machine vision: mathematical methods and physical principles are common for traditional and embedded applications. It's the form-factor that is different, but it's not the point. For embedded vision, image should be captured and processed, this still requires cameras, optics, lighting, communication interfaces, computational power and software. Embedded systems typically have constraints in terms of size, processing, memory, and power, but this should hardly constitute grounds for excluding them from the general class of machine vision systems.
How does the Russian machine vision market change in the digital economy?

The major challenge is an ability to be clear-eyed about technology capabilities in specific applications. In Russia, combining machine vision with the cloud started taking off in the physical security and traffic management environment. Industrial cases pop up as well, but most of their early adopters are foreign corporations operating locally. Hopefully, their number will increase with the time due to obvious technology advantages.
What specific challenges or requests were you addressed with by customers and sales partners at All-over-IP 2018?

In 2018, I was pleased with the number of All-over-IP visitors interested in solutions based on machine vision technology, and we are no more getting questions like "Why do you need machine vision cameras, if IP cameras are cheeper?". Most people understand the difference.
What do you expect from the Russian market for machine vision in 2019?

I expect growth by 10–20% due to increased technology affordability and innovations entering the engineering workspace. Let me put this into perspective: 3 years ago, an average 2 Mpx imaging kit containing a Basler camera (with a Global shutter sensor), lens and a matching processing board cost 3000 euro. Today, this kit is twice as cheap. There are even more egregious examples for barcode reading applications. Today, a 10 Mpx Basler camera (with a Rolling shutter sensor) with 5 Mpx Basler lens (reduces the initial resolution, still the image quality is good enough) costs 600 euro. You could not imagine that 3 years ago.
ViTec is a speaker and exhibitor at All-over-IP 2019. Join the MACHINE VISION and INDUSTRY 4.0 conferences to explain your technology to the engaged audience of Russian end-users, system integrators, security installers and engineers. You can book your participation here.

12th Annual International ALL-OVER-IP 2019
Founded in 2008, All-over-IP is a networking platform for global IT, surveillance and security vendors, key local customers and sales partners where they share knowledge and exchange ideas that are financially rewarding for business. All-over-IP Expo brings together major brands to ensure the best marketplace for the latest technology and innovation, and to lead customers to the Next Big Thing.
General Sponsor: Grundig Security
Sponsors: ITV Group, Basler AG, Electronika, Rubicon, Faceter, Milestone Systems, Fort-Telecom, Rubetek, OSRAM
365 days per year: content and digital marketing initiatives
November 20–22, 2019: the in-person event
Russia, Moscow, Sokolniki Expo
www.all-over-ip.ru/en