18 December 2019, Moscow — The technology for integrating Speech Technology Center's Smart Tracker FRS facial recognition system into the Milestone's XProtect video surveillance system was unveiled at All-over-IP 2019 Business Forum.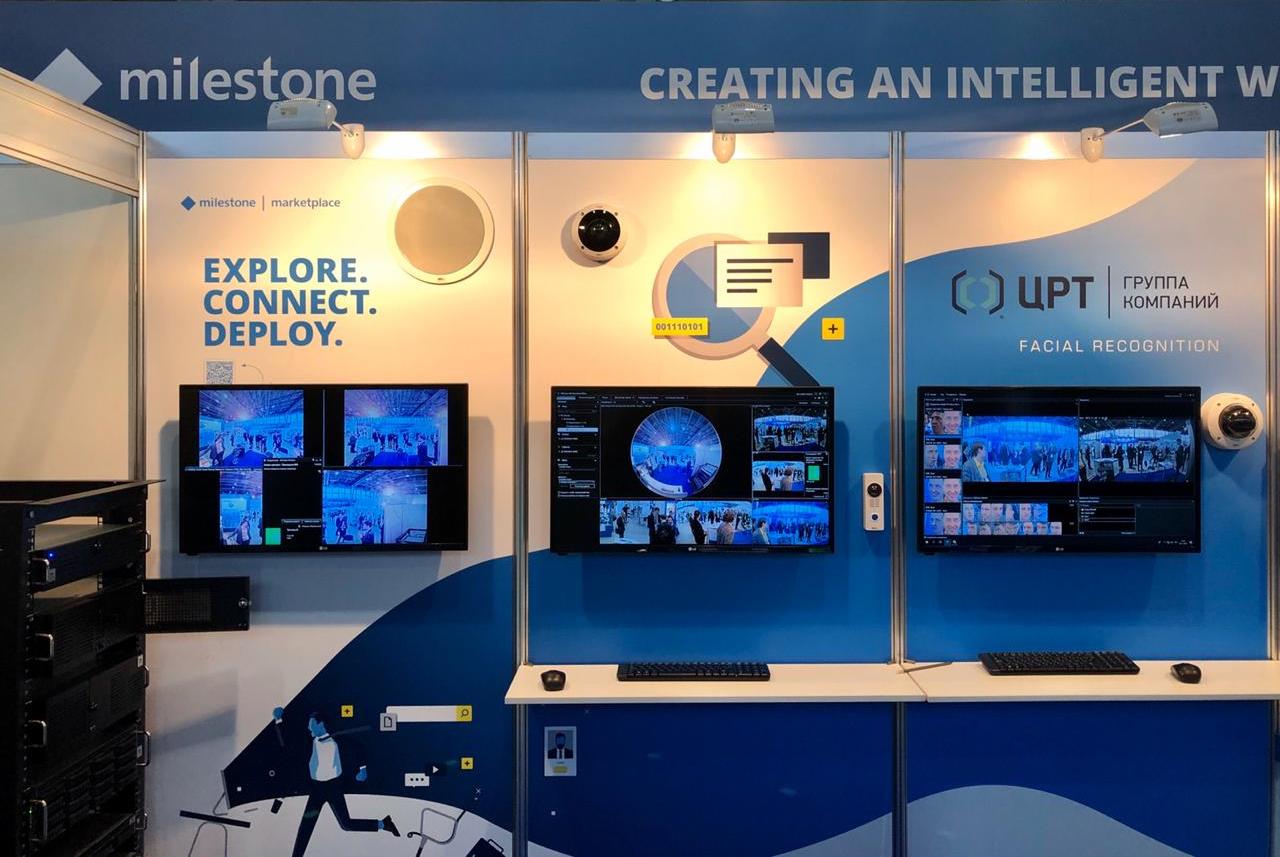 Experts note that businesses do not need disparate components, but a single system – Video Management System (VMS) – which solves complex tasks and creates a single "control centre" to ensure security.
Milestone XProtect® video management software (VMS) brings all the puzzle pieces for video surveillance together in a perfect combination to create a solution that keeps people and property safe today – and tomorrow.
With XProtect as the foundation of your video surveillance, you get the freedom to build the entire system just the way you like it. Built on an open platform architecture you can customize your surveillance system and integrate other business applications into it for increased usability and performance. Starting with XProtect means starting right – with a solution that can easily grow and expand over time as needs change.
Milestone Systems is a leading provider of open platform video management software; technology that helps the world see how to ensure safety, protect assets and increase business efficiency. Milestone enables an open platform community that drives collaboration and innovation in the development and use of network video technology, with reliable and scalable solutions that are proven in more than 150,000 sites worldwide.
Smart Tracker FRS is a biometric facial recognition system, a complete product with flexible and customizable interfaces from the Speech Technology Center, the leader in the implementation of biometric solutions in Russia. Smart Tracker FRS allows users to analyze video stream, recognize and identify faces in real time, structure the card index of images, easily integrate with access control, time tracking, ticketing and other systems.
The integration of these systems provides additional capabilities, which enables you to:
solve video surveillance and facial recognition tasks in a single window through the Milestone XProtect interface;

flexibly configure notifications and alerts based on data from the facial recognition system;
register faces that are not in the existing database
view all information about upcoming events, including footage from the camera;
manage the card index from the Milestone XProtect interface.
All these features are now available via the all-in-one interface.
Demonstration of the solution took place at the Milestone booth at All-over-IP 2019 Business Forum Nov 20–22 in Moscow.
At All over IP, we presented an example of building an integrated video management solution through deep integration of equipment and software from various manufacturers based on XProtect software, including servers, cameras, analytics and access control systems. Visitors can check out the new capabilities of the software for managing IP video surveillance and security systems, explore the various types of solutions that are most suitable for their project in terms of scale, business requirements, and present and future needs of the facility owner. Speech Technology Center is a leader in the implementation of biometric systems in Russia, and we stand for the development of joint solutions. Dmitry Bazaev, Manager for Northeastern Europe, Russia and the CIS, Milestone Systems
Building complex integrated security systems is not a trivial responsibility, especially if your project uses software and hardware from different vendors. The Speech Technology Center portfolio contains many successful implementations: Smart Tracker facial recognition system has been installed on more than 20 transport facilities and more than ten stadiums and ice hockey arenas; in addition, five cities use it to implement the Safe City and Smart City concepts. Thanks to the implementation of large-scale projects, we have accumulated unique experience and expertise and we also have ready-made integrations and technology partnerships with key players around the world. Collaboration with Milestone has allowed us to merge our systems and provide businesses with one of the best integrated security solutions for international market. Andrey Khrulev, Business Development Manager of biometrics division, Speech Technology Center
---
Speech Technology Center is a group of IT companies, a global developer of intelligent speech and facial recognition technologies. It is also a technology expert in AI and machine learning. With one of the largest R&D teams in the industry and more than 29 years of experience, Speech Technology Center is well known for solutions implemented by some of the largest international companies in banking, security, telecom and public sectors. Speech Technology Center products are sold in more than 70 countries. www.speechpro.com
Media contact:
pr@speechpro.com